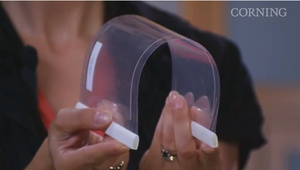 Corning has revealed their "ultra-slim," flexible Willow Glass.
The glass "could revolutionize the shape and form of next-generation consumer electronic technologies," says the company.
Reads the press release:
"Corning Willow Glass will help enable thin, light and cost-efficient applications including today's slim displays and the smart surfaces of the future. The thinness, strength, and flexibility of the glass has the potential to enable displays to be "wrapped" around a device or structure."
Notably, the Willow Glass is processed at temps up to 500 degrees Celsius, a condition not possible with older polymer films. The glass can support thinner backplanes for OLED and LCD devices. The company hopes to use the glass in the future to develop curved displays for "immersive viewing or mounting on non-flat surfaces."
Concludes Dr. Dipak Chowdhury, division vice president and Willow Glass program director:
"Displays become more pervasive each day and manufacturers strive to make both portable devices and larger displays thinner. Corning Willow Glass provides the substrate performance to maintain device quality in a thin and light form factor. Currently manufacturing in a sheet-to-sheet process, we expect Corning Willow Glass to eventually allow customers to switch to high throughput, efficient roll-to-roll processing, a long-awaited industry milestone."