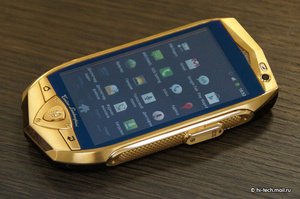 Tonino Lamborghini, founded by the son of the famous automaker, has announced its latest line of "luxury" mobile devices aimed at the Russian market.
The company unveiled three phones and one tablet, although only one of the phones runs on
Android
.
Dubbed the Lamborghini TL700, the phone runs on Android 2.3, has a 3.7-inch
WVGA
sapphire
crystal display, a 5
MP
rear camera, a
VGA
front-facing camera, 4
GB
of internal memory and a small 1,400 mAh battery. It is unclear what processor is in the device, but it said to be from Qualcomm.
While the specs are terrible by current standards, the device comes with a 90,000 RUB/$2,750 price tag. Why? The phone has a case made of gold and a back plate of crocodile skin.
The tablet, the Lamborghini L2800 has a 9.7-inch 1024 × 768 pixels sapphire crystal display, a 5
megapixel
rear-facing camera, a 2 megapixel front-facing camera, 512
MB
of
RAM
, 4 GB of storage capacity, a
MicroSD
card support and a 1.2 GHz Qualcomm processor. Just like the phone, the tablet runs on Android 2.3.
Lamborghini has priced the L2800 at 75,000 RUB/$2,290 although it does not have a gold case or croc skin.
Great pics via Russian site
Hi-Tech
: