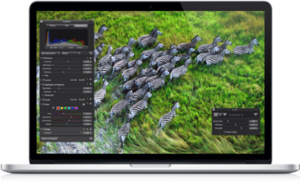 Today at their annual
WWDC
event,
Apple
has unveiled their new line of MacBook Pros.
The new computer will be just 0.71-inches thick, the thinnest Pro model yet, says the company.
Most importantly, the 15.4-inch device will have
Retina Display
, by far the "the highest
resolution
" of any notebook on the market, at a hefty 220 pixels per inch. The resolution is 2,880 x 1,800.
Apple has updated each of the native apps like Mail,
Safari
, and iPhoto to take advantage of the new resolution. Third-party devs are doing the same.
The specs are pretty decent, with i7 quad-core processors up to 2.7GHz, up to 16GB of 1,600MHz
RAM
, 768GB of Flash storage, a GT650M, USB 3/USB 2 ports, an
SD
card slot,
HDMI
, a backlit keyboard, multitouch trackpad,
802.11n
Wi-Fi, and Bluetooth 4.0.
Battery life is stated at 7 hours.
For the base model, which comes with Retina, 8GB RAM and 256GB SSD, the price is $2199. The high-end model will likely top out around $3800.