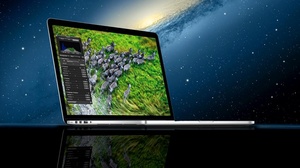 The news comes via popular DIY tech site iFixit.
iFixit was able to get their hands on the new MacBook Pro with
Retina Display
and has some bad news for eager Mac fans.
The site took the notebook apart and gave it the worst repair score possible, a heinous 1 out of 10.
"This is, to date, the least-repairable laptop we've taken apart,"
added Kyle Wiens, CEO of iFixit.
"Apple has packed all the things we hate into one beautiful little package. Laptops are expensive. It's critical that consumers have the option to repair things that go wrong, as well as upgrade their own hardware to keep it relevant as new technologies roll out."
Weins is not kidding. The base model of the new MacBook is $2199. Unfortunately, it's non-upgradeable and almost impossible to fix yourself:
"The new MacBook Pro is virtually non-upgradeable -- making it the first MacBook Pro that will be unable to adapt to future advances in memory and storage technology,"
noted Wiens.
Just like in the
MacBook Air
, the new notebooks have "proprietary screws, copious amounts of glue and expensive parts" that must be replaced by Apple even after a minor failure. The
RAM
is soldered to the logic board, making RAM upgrades impossible. Apple charges almost
triple
the price for RAM upgrades as it would cost you to purchase on (for example, NewEgg) and install yourself.
Oh yeah, and you can't replace the SSD either.