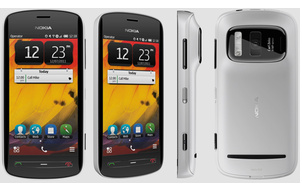 As expected,
Nokia
has launched the
808 Pureview
for the United States.
The device is notable because it runs Nokia's discontinued Symbian operating system and also includes a 41MP camera sensor. The average smartphone in the U.S. has an 8MP sensor.
Nokia has made the product page available
for the U.S.
. The phone will eventually sell through Amazon for $699, unlocked for
GSM
carriers.
The device will work on T-Mobile and AT&T's 3G radio bands.
Pre-orders begin this week but there is no word yet on actual release.