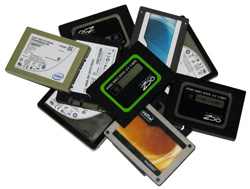 Although they are still not necessarily "cheap," prices for SSD have fallen dramatically in the last year.
Overall, the average cost of an SSD has fallen 48 percent over the last 12 months, while the prices of traditional hard drives have remained inflated following the Thai floods.
Larger drives saw the biggest drop, with the 240GB and 256GB model prices falling over 50 percent.
The
Intel
320 Series, and most of Intel's drives remained expensive, thanks to its proprietary Intel controller.
Several drives finally reached a milestone, though, falling to under $1 per
GB
. Most HDD cost around 10 cents per GB now at inflated prices.
See all the charts here:
Techreport