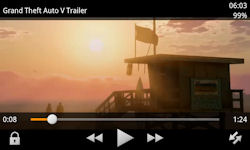 VLC for Android
was announced as being in development last year, and welcomed by every user of VLC on another platform. VLC is a commendable project; a free, open source media playing, streaming and capturing solution that is used by millions of Windows, Mac, Linux and other users.
The first beta of VLC on the Android platform has been
added to the Google Play market
, giving a taste of what to expect over the coming months. The app is, most definitely, far from being anything considered
"final"
- a fact that the VideoLAN project alludes to in its warning on the app description:
"It might kill your kitten, destroy your house and start the mayan apocalypse. Use it at your own risk. Have Fun! :)"
.
Due to the early beta nature of the app, and the hardware / geographical limitations of its use, this is not exactly a
review
, rather a peak at where the VLC development for Android platform is headed.
Hardware and Geographical Restrictions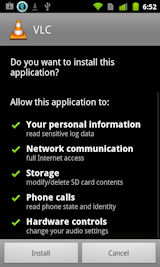 Unfortunately, not everyone can have fun just yet. Geographical restrictions might prevent you from downloading the app altogether from Google Play (in which case, go to the
VideoLAN Nightlies
to download the APK installer package manually).
Additionally, you will need
ARMv7
processor that supports the
NEON
engine in your Android device, which to be fair, covers quite a share of Android devices (there is a Tegra 2 build in the
VideoLAN Nightlies
also).
The beta app requires permissions to change the volume setting, read log data from the device, read the phone state and identity (if a call is active, for example), to modify storage (delete contents from SD card) and full Internet access.
Local Video & Audio Playback
On the first run of the VLC beta for Android, the app will scan the typical multimedia directories on your Android device. It will then prompt a list of all compatible video files and audio files it can find, which you can play with a touch.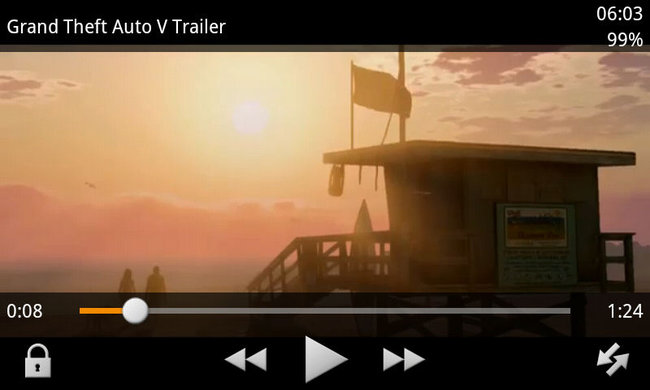 I tested some AVI (XviD), MP4 (h.264 & AAC) and MKV (h.264) multimedia files with the app, all of which worked, but predictably, the consensus among pretty much everybody who tested HD files so far is that you need a pretty powerful and new tablet to get 720p content to play back smoothly. Still, it is important to remember that this is a beta version of the app, which the VideoLAN project itself points out is far slower and more limited than the final release will be. Another point to make is that hardware acceleration is off by default, which we'll see shortly.
For audio content, VLC, even in beta, is predictably good, supporting a wide variety of formats. The app organizes tracks into Artists, Albums, Songs and Genre, but you'll probably want to make use of the in-app search option if you have a lot of music on your device.
Network Play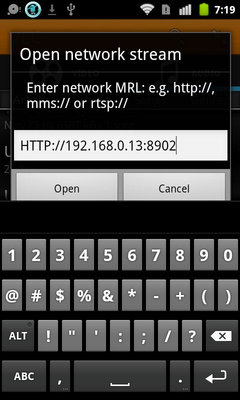 You can also play streams over your network (or from the Internet) if you have the correct MRL (http, mms or rtsp). I just did a quick test playing a feed from the
Sopcast
P2P TV application for Windows, which sets up its own network stream on localhost, port 8902 automatically.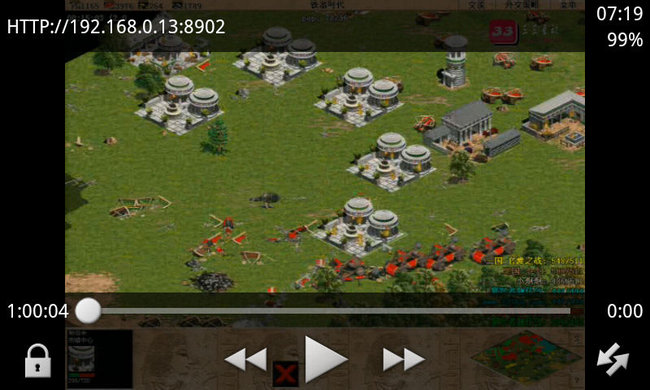 The network stream played fine (appeared to be some kind of Asian gaming network) on my phone without much glitching, but I was unable to test it against anything high-bandwidth. Still, it wouldn't be a VLC product if it was incapable of playing a network stream properly.
Widget

There is also a VLC mini player Widget that simply lets you skip between, play or stop multimedia content that you have launched in the app. It's pretty basic for now, just does the trick.
Preferences - Hardware Acceleration & Directories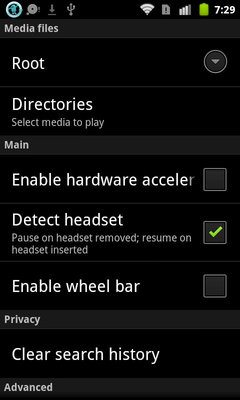 Since this is only a beta release of the app, there is limited support for device hardware. For that reason, hardware acceleration is disabled by default when you install the beta. VideoLAN will be releasing separate apps to support a wider range of Android devices in the future, so that should bring about smoother multimedia playback.
Hardware Acceleration can be turned on in the preferences (
Menu
button -
Preferences
), but this for now is unlikely to make the slightest difference for the vast majority of users.
If you have multimedia content on your Android device that is in an unconventional directory on your SD card, for example, you can also use the Preferences to select (or deselect) directories that the app will probe for multimedia files.
Conclusions
As I said already, I only wanted to take a look at the VLC for Android development as it stands, so I can't exactly bash things I don't like about the app, but there are clear signs of its beta-nature. I noticed that every time I launched the app, it seemed to rescan its entire library over again (and also when I changed something in preferences.)
During video playback the progress bar does not seem to work if you try to swipe to another part of the video. Instead you have to rely on the forward and back buttons, but they are also fairly unreliable. But these are issues that will probably be fixed long before a final release is even made.
Overall, it is great to see VLC running on Android, especially now as Android is expanding out of the mobile devices space and taking a role in home entertainment. If there's one group that can deliver a great solution for media playback for Android, I'd bet on the VideoLAN project developers any day.
Of course, VLC is not the only option already. Other media players, such as
MX Player
, have gained considerable attention as they have been developed. Competition is always good, especially since MKV playback is not exactly perfected by anyone yet, and there are other important battlegrounds, like efficient subtitle support.
There's no doubt that VLC for Android shows promise.