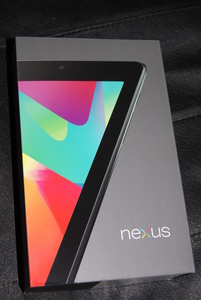 After months of speculation and rumor, Google unveiled its Nexus 7 tablet last month at their annual I/O event.
Rightfully so, the tablet has received serious notice, as it will be the first true
Android
experience tablet, one not marred by any third-party UI or OEM-branded apps.
Additionally, the tablet comes with Android 4.1
Jelly Bean
, the first device to receive it, and it certainly shows in the performance.
Read on for the rest of our review on this excellent new entry to the tablet market.
Specs and Design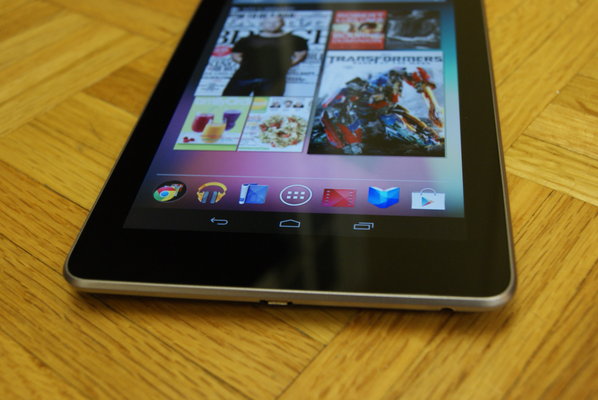 The Nexus 7 is built by
Asus
, who is known to have strong designs and powerful internals, and it certainly shows here.
Google's first tablet has is powered by a quad-core Tegra 3
SoC
, has 1GB
RAM
and comes with 8GB or 16GB internal storage, depending on the model. Additionally, the tablet has a large 4325 mAh battery and built-in
NFC
,
GPS
, gyroscope, a mic and a 1.2MP front-facing camera.
Just as importantly, the tablet is thin and light, coming in at 0.41-inches thick and 0.74 pounds. The device is not as thin as the latest iPad (0.37-inch) but it is lighter than its biggest competitor in the 7-inch market, by a long shot, beating the Kindle's 0.9 pounds.
On the design end, the tablet looks and feels excellent. The screen has its main black glossy bezel, but the tablet has a gray ring around it that looks like metal but is really plastic. The back cover has a design that can only be described as "fake leather" but it is soft, comfortable and gives you a great grip on the tablet. It is also very hard to accumulate fingerprints and smudges, which is always a good thing.
There are little ports on the Nexus 7. In fact, outside of the microUSB for powering the device, the only other inputs you'll find are the audio jack and the small pogo plugs for connecting the tablet to a dock.
Of course, there is room for improvement. The bezel could have easily been shrunk down on the top and bottom of the tablet to give some more real estate to the actual display. Not a deal breaker by any means, but could have been done. Additionally, this may be a personal preference but having the power button and volume rocker on the same side of the tablet (right side in this case) is a major annoyance to me as it leads to more accidental presses than would ever be an issue otherwise. Once again, these are little things, and not deal breakers.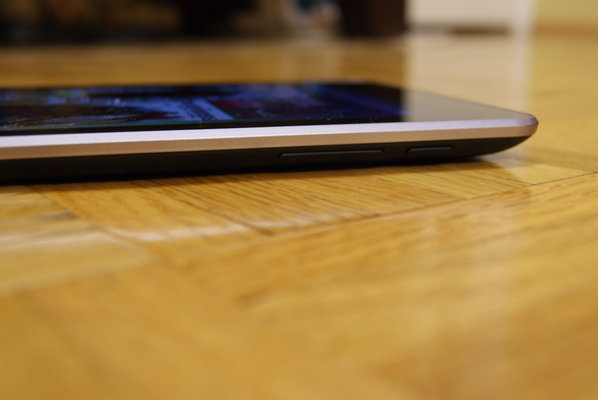 Display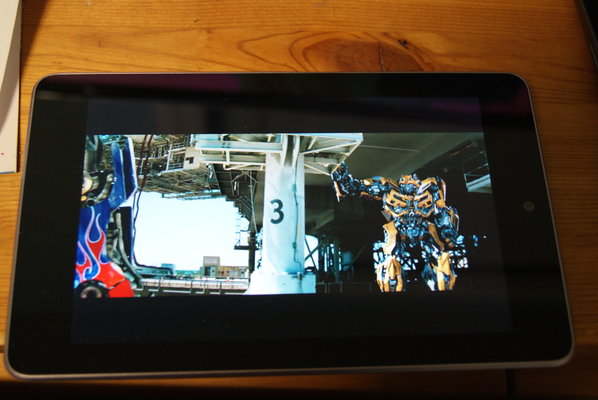 The Nexus 7's 7-inch LCD display has a 1280x800
resolution
and Gorilla Glass to protect from scratches. The
HD
display is also 216 ppi, not quite the 326 ppi of the
Retina Display
iPad, but in all honesty, it doesn't even matter. All text and images I looked at were
sharp
and completely clear of blur.
HD movies (like
Transformers
) looked fantastic and detailed, and Netflix HD films looked almost as good.
There were zero touch issues, and the tablet was as responsive to touch as any tablet I've ever tried, including the iPad.
Magazines and books looked great, as well, with vivid colors.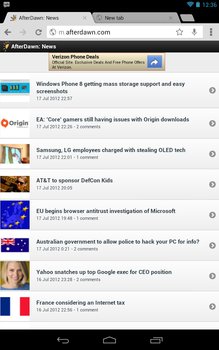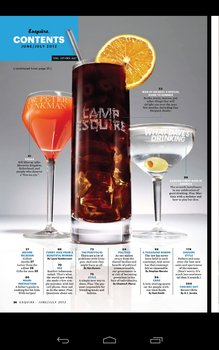 Performance and Battery Life
Performance on the Nexus 7, even after installing apps, was incredible. The Tegra 3, Nvidia's quad-core SoC, is fast, but that's not even where the N7 shines.
Android 4.1 Jelly Bean is far and away the most responsive and smoothest Android experience yet. Having used Android since 1.1, I can say there have always been response issues, on both smartphones and tablets, but they are non-existent on the Nexus 7.
Gaming saw consistent framerates, especially games built for Tegra chips like ShadowGun. There was no lag here, either. Multitasking, even with multiple apps going at the same time, gave no issues at all nor did it lead to sluggishness.
On the battery side, with low-moderate use, I was able to get almost 10 hours, which is great for a tablet and should be the standard. More heavy use, including watching videos or playing games, (while keeping web pages in the background) brought that number down to 5-7 hours, which were still good, but of course depended on the usage.
Camera
The Nexus 7 does not have a rear camera and features a 1.2MP front-side camera. The camera is pretty useless for picture taking (unless you like feature phone quality) but works well enough for Google+ Hangouts and video chatting. Nothing special here, but it is certainly and upgrade from the Kindle Fire, which had no cameras and no mic.
Software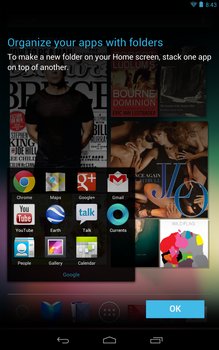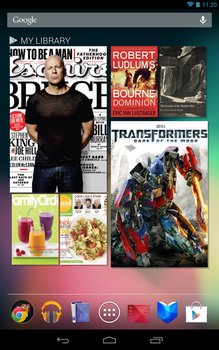 Being a vanilla Google device, the Nexus 7 is deeply integrated with Google's ecosystem of books, music, movies, magazines and apps.
With Jelly Bean, this integration is finally something to be proud of. To be blunt, Gingerbread sucked, Honeycomb was a beta of things to come and Ice Cream Sandwich finally got it right. Jelly Bean just improves on ICS and the latest is the first time that Android feels like a complete mobile operating system, one that can compete with
iOS
in that respect, especially on tablets.
Google pre-installed their whole suite of apps; Maps, Google+, Gmail, Currents, Talk, Earth, YouTube, Calender, Music, and Google Play and conveniently placed them in folders, which were welcome additions to Ice Cream Sandwich last year.
Wallet is pre-installed, as well, giving users a chance to use the built-in NFC to make payments. Wallet, like other mobile payments, is still in its infancy, but is slowly but surely becoming a standard for the industry.
As a widget on the home screen (removable of course), Google shows your library front and center. Magazines, books you are currently reading, movies you are currently watching and music you recently downloaded or listened to are right there for you if you ever want to go back to where you left off. It is a useful widget, for sure. Jelly Bean also brings a much-improved notification bar, with sharing integration for Gmail, Email,
Dropbox
, Twitter, etc. and better access to the settings. The new bar makes it easier to see multiple notifications, and is a significant improvement, even from ICS.
On the downside, while ever-improving, the Google Play Store and integration of the ecosystem still lacks when compared to iOS and Amazon. Amazon has a huge advantage by offering their Prime service and its accompanying free video service.
Apple
has deals with everyone, everywhere, which gives it an advantage, as well.
Furthermore, app compatibility is a problem for the Nexus 7, also. There are quite a few apps that aren't supported by Jelly Bean, at all, and quite a few others that are not optimized for a tablet, let alone a tablet with
720p
resolution. This has always been one of the biggest problems with Android tablets, and while it is improving, it is still an issue.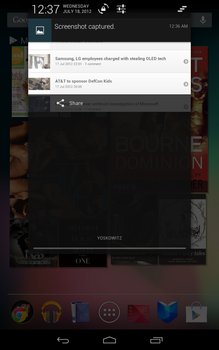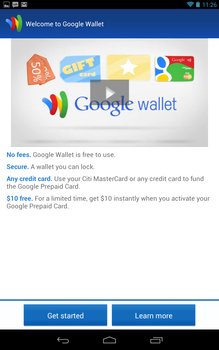 Google Now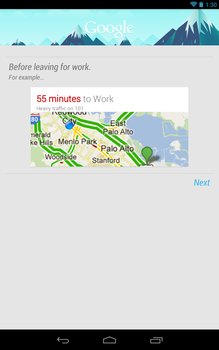 Last but certainly not least, is the addition of Google's natural search engine, Google Now. You can ask Google Now questions, as you would
Siri
or S-Voice, and it will give responses.
More importantly, however, is how Google Now "learns" the more you use it. By spending most of your time sleeping in one place, or working at one, Now assumes where home and work are. The service offered me the bus and train schedules for the buses and trains I use most often here in NY, seeing that I search for them often. Weather moves with you, as does traffic reports, sports scores and flight information. It will also read back calender events, help you translate and show nearby "interesting places." Now will certainly be getting more use from me into the future.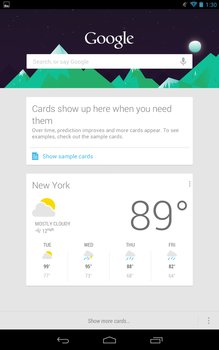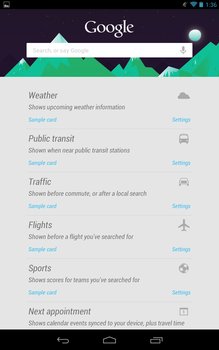 Final Thoughts
Google has come a long way since the start of Android, and the Nexus 7 (but more importantly Android Jelly Bean), is a huge step forward for the operating system.
The Nexus 7 is the first Android tablet that works as completely as the iPad does. Until Jelly Bean, Android (and especially Android tablets) have always seemed like a "work in progress," with no time frame for it being completed. The latest offering is certainly getting close, if not totally there just yet.
Asus has put together a stylish tablet, one that does not feel cheap, and incorporates powerful hardware. Now that the software is up to the challenge, Android and Google have finally presented themselves to the tablet market.
Oh, and did we forget to mention it only costs $200?
Specs 9/10
Design 8.5/10
Display 8.5/10
Battery Life 9/10
Performance 9.5/10
Software 9/10
Ecosystem 9/10

Total: 8.9/10