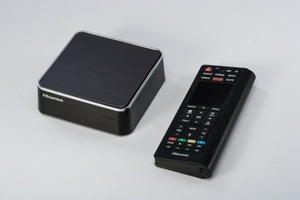 Chinese
OEM
Hisense has announced their entry into the Google
TV
set-top box
market, with their 'Pulse' device.
Like rival devices, the Pulse will give instant access to Google-centric apps like Chrome, YouTube, Google Play and Search as well as pre-loaded apps like Netflix, Pandora and
Spotify
.
Hisense says the box will support
H.264
,
MPEG-4
,
AVC
and
1080p
. For connectivity, the box has
HDMI
, USB and Wi-Fi.
The controller is double-sided and includes a full QWERTY, a dedicated Netflix button and a touchpad.
"This box effectively bridges the gap to the latest in home entertainment, without the need for expensive hardware upgrades,"
adds Hisense marketing director JoAnne Foist.
"Compared to other streaming devices, the Hisense Pulse with Google TV allows consumers to experience a new level of smart content discovery and viewing recommendations."
The Pulse goes on sale in November for $99.