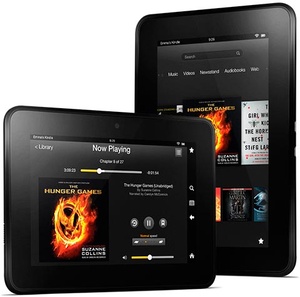 As you may or may not be sick of hearing, Amazon revamped their entire Kindle Fire line today, updating the original tablet and adding three more with a bevy of new software features to go along with the updated hardware.
In this article we will go over the new software features that are available to upcoming Kindle Fire
HD
owners.
Whispersync for Voice
Whispersync for Voice lets customers who own the ebook and (possibly) the audiobook of a title seamlessly switch between both. For example, Amazon says if you are reading a book and then need to drive, Whispersync will sync you right to where you left off in the book to the audiobook and let you listen from there. You will need the Audible app, and it is unclear whether you need to own the audiobook as well or whether there is a deal cut with Audible.
Whispersync for Games
Similar to all other Whispersync features, For Games will allow you to save your place in the game when moving to a new device while also keeping all progress saved in the cloud.
X-Ray for Movies
X-Ray, an Amazon exclusive, directly integrates IMDB into any movie. You can look up any actor in any scene, see what other films any actor has been in, as well as their photos and bios just with one click.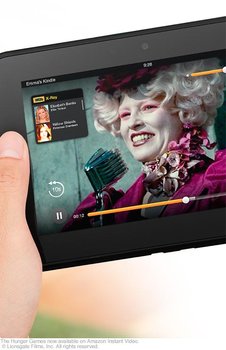 X-Ray for Textbooks
A great tool for students, X-Ray for Textbooks integrates the glossary of the book into each page and also "algorithmically assembles related data from Wikipedia and YouTube."
Immersion Reading
This great feature is best explained by Amazon itself: "Together, Amazon and Audible invented 'Immersion Reading,' allowing customers to fuse together printed text and professionally-narrated audiobooks, giving readers the ability to experience their reading with two senses--sight and sound. As the reader views the text of their book on Kindle Fire, text is highlighted as it is professionally-narrated, creating a more immersive experience, as well as deeper learning and comprehension.'
Kindle FreeTime
FreeTime is a reinvention of the age-old parental controls built into most software. Parents can use the tools to personalize their kid's digital media experience. Parents can block access to certain content with a password and also limit screen time when playing games or watching videos. Reading time can be made unlimited.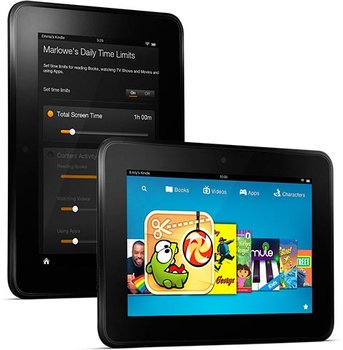 All-New Email and Calendar
The new devices have integrated
Microsoft
Exchange, while enhancing all email functions. Support for Gmail, Microsoft Exchange, Hotmail, Yahoo and more is built in. Additionally, there is a new calendar app which should be a welcome relief to original Kindle Fire owners.
Overall, the new features appear excellent on paper, especially for consuming content. We will have our review up next week.