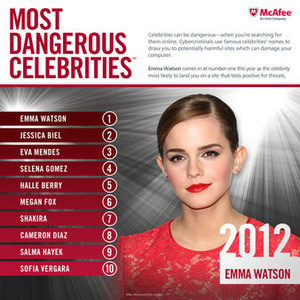 According to McAfee, actress Emma Watson is the most dangerous celebrity to search for online, if you hope to avoid malware.
Watson is best known for playing Hermione Granger in the Harry Potter franchise.
The actress is followed by Jessica Biel, Eva Mendes and Selena Gomez. Biel is no stranger to the list, having topped it in 2009.
McAfee adds that when users search for their favorite stars, whether it be pictures or news, they are not as active in monitoring what they click.
For Emma Watson, for example, there is a one-in-eight chance of reaching a malicious site. Adding extra terms like "Emma Watson nude pictures" highly increases the chances,
adds the anti-virus company
.