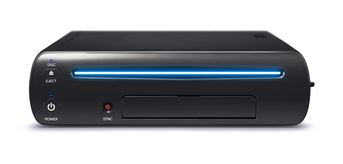 Nintendo
has revealed it will release the
Wii
U console on December 8th in Japan.
The company will sell two models of the system, starting at 26,250 yen ($337 USD) for a base model and 31,500 yen ($405) for a premium variety.
In the base model, the console will only have 8GB internal storage while the more expensive version will feature 32GB and additional stands for the tablet controller.
Those looking to buy an additional GamePad tablet controller will have to pay up, with the touchscreen remote costing 13,000 yen ($167).
The controller allows gamers to complete certain in-game tasks while the main action continues on the big screen. For example, gamers may be able to switch weapons, check maps, or change inventory items from the tablet while still fighting enemies on the
TV
.
Additionally, you can keep playing a game on the tablet when you have to leave the room with the TV in it.
Nintendo's president, Satoru Iwata, added that the console would launch with the New Super Mario Bros U.