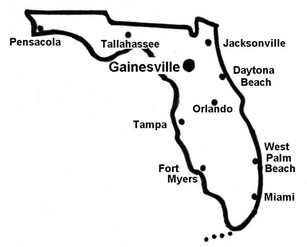 According to the latest Digital Music Index (DMI) report, Gainesville, Florida is the new 'pirate capital' of the world.
The report is a global look into music piracy and digital music trends are the world. The companies behind the report investigate
BitTorrent
file sharing.
In a number that seems low, the report states that Americans downloaded 759 million songs illegally using torrents during the first six months of the year. Americans remained the worst offenders, says the group.
Gregory Mead, global CEO of Musicmetric:
"Detailed data analysis is of great value to the industry and just as retailers need to know their customers, we need to do the same online. Offering people better insight into music through the DMI will help the industry begin to reclaim its past glories and we're excited about working with labels to achieve this."
Unauthorized file sharing did decrease slightly in areas where
Spotify
and Pandora were available, but YouTube remains far an away the most popular way to listen to music online, with 33.5 billion plays in the last year.
The most downloaded song in the U.S. was Lil Wayne and Drake's "The Motto" at 438,038 downloads. The rest of the top five were also rap; Drake's "Take Care" (453,933); Jay-Z and Kanye West's "Watch The Throne" (365,987); Big Sean's "Finally Famous" (352,623); and Tyga's "Rack City" (304,292).
Looking globally, the UK was the second worst offender.
More here:
DMI