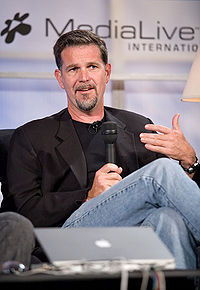 Netflix
announced the launch of their service in the Nordics last week. The on-demand streaming service is now open in four new countries: Sweden, Finland, Norway and Denmark.
During the launch event in Helsinki, Finland on Thursday, we briefly met with the CEO and founder of Netflix
Reed Hastings
and discussed a little bit about launch in the Nordic region and future plans.
Netflix launched with an expected monthly price of 7,99 euros sporting a broad device support that is their trademark.
Reed Hastings confirmed that having broad device support is one of the most important aspects. However, in the bigger picture, it is important to offer an easy-to-use experience, which comes down to more than device support.
Talking about the competition and entering the Nordic market, Hastings said that it's not important to think about the competition. They have more experience in the field than anyone else and they trust what they've managed to build.
We don't care about competitors, we care about customers.



Netflix CEO Reed Hastings
Content might not be the king for Netflix CEO Hastings. At least not in the way one of their main competitors in Nordics,
Viaplay
, sees it. Neither of them offer the up-to-date TV series or movies but Viasat's service is relying on their exclusive content deals.
Hastings believes it's the overall experience that makes the difference. It need to be easy to use, affordable and mobile. Picture and audio quality, and of course quality content is important as well. Asking about the rather unimpressive launch lineup for TV shows and movies, the CEO insisted that they're getting there.
Making the service better in the Nordics is a priority before they can expand elsewhere. According to Hastings they want to be accessible worldwide, but first they need to excel in the regions they have presence. All the new software features that will be released in the US will come to the Nordics as well. Unfortunately the deals do not allow same to happen for the content.