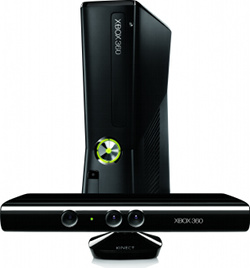 Microsoft
will sell the Xbox 360 with a two-year subscription to Live Gold for $99, the cheapest the hardware has ever been available for.
The company recently announced they had reached 70 million units sold, leading the PlayStation 3 in the console race. Consumers in the U.S. purchased 270,000 consoles last month, alone.
For your $99, you receive a 4GB Xbox 360 and a
Kinect
sensor, but you commit to two years of Xbox Live Gold. The service will cost $13 a month, making the full price of the bundle about $420 after two years.
The bundle was available at Microsoft retail stores, but those are available only on the West Coast. The bundle will now be available at Best Buy, GameStop, Walmart and Toys "R" Us stores.
"I think that the $99 program has always been a test to see if Microsoft can do it with the launch of the next Xbox,"
add video game industry analyst Michael Pachter.
"They're rolling out to broader retail so everyone is ready for the next generation launch, likely to be subsidized by cable companies since the next generation will likely have a TV tuner built-in."