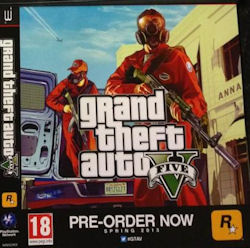 GAME spills the beans on Rockstar blockbuster.
Only a few short days ago, a Polish blog posted images that suggested Rockstar Games' hotly anticipated Grand Theft Auto V will launch in 2013. While that report slated it for Autumn, UK retailer GAME may have leaked a Spring 2013 release window on Twitter.
A tweet from a Brighton branch containing an image of Grand Theft Auto V posters signal a
"Spring 2013"
release window for the game. While the tweet told consumers to "Pre-order now!!!!!!!," it has since disappeared from the retailers' Twitter feed.
Here is the picture tweeted by the GAME retailer (pic source:
IGN
)