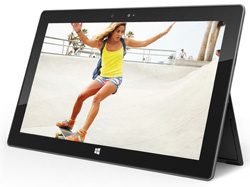 Acer to wait and see.
Acer
has decided to delay the launch of tablets that run
Microsoft
's
Windows RT
operating system after Microsoft opted to release the Surface with Windows RT tablet last Friday.
Acer, an important partner for Microsoft, will wait to see and assess the performance of the Surface with Windows RT tablet before committing its own devices to the platform.
"Originally we had a very aggressive plan to come out very early next year but because of Surface, our R&D development doesn't stop, but we are much more cautious,"
Acer President
Jim Wong
told Reuters
on Tuesday.
"Originally our plan was Q1, but now I don't think it will be earlier than Q2."
Acer has been a vocal critic of Microsoft's Surface tablet for some time. According to Wong, Lenovo and Asustek had plans to introduce Windows RT tablets at around $599, but Microsoft surprised everyone with the $499 Surface tablet (though that would not include the keyboard/cover).