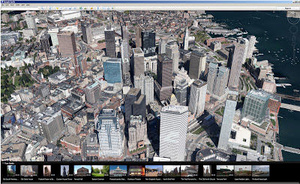 Google Earth for mobile features come to Desktops.
Google Earth for mobile
enables users to view some cities and locations in 3D in excellent detail, while also providing a tour guide feature that acted as a local expert for a covered location.
Now, Google has announced
Google Earth 7
for Desktops, which brings both previously mobile-only features to your PC screens. The tour guide feature now covers 11,000 popular sites around the world, and the list of cities with 3D imagery is growing.
For whichever area you're viewing in Google Earth, thumbnails highlighting pre-created tours in the same area will dynamically update at the bottom of the screen. Simply click on one of the tours, and you'll embark on a virtual flyover of famous, historical and cultural sites close by.
Educational and fun facts from
Wikipedia
will also appear on the screen as you fly in and around locations like the Great Wall of China, Stonehenge, and more.
Download Google Earth 7 from here
.