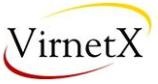 A federal jury in Texas has ordered
Apple
to pay $368 million to software patent company VirnetX.
The patent in question is related to VPN, more specifically U.S. Patent No. 8,05,181 for a "Method for Establishing Secure Communication Link Between Computers of Virtual Private Network."
In 2011, VX filed the original complaint, alleging their patent was being used in the
iPhone 4S
.
In addition to the victory, VirtnetX
has also
filed a complaint with the U.S. ITC alleging that Apple's entire range of mobile products violate their wireless patents.
The ITC threw out a similar complaint in August, due to a technicality. At the time, VirnetX promised to file a new complaint.