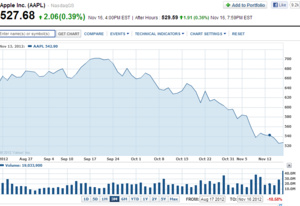 Over the last 8 weeks, the once invincible
Apple
has seen its stock fall almost 30 percent, while the broader stock market fell 9 percent in the same period.
While many stocks see extreme declines over the course of their lifetime, Apple's is most notable given its current valuation.
After a nice 5 percent rebound on Friday, the company is valued at $496 billion, $100 billion more than the second-largest public company in the world and more than Google and
Microsoft
combined.
Before the drop, the company was valued as high as $660 billion, meaning in just two months the company lost a value of $164 billion, more than the entire worth of Amazon, eBay and Netflix combined. In other words, the drop was significant.
Apple has seen some slowing growth for their products in recent quarters and have been accused of becoming less innovative, especially when compared to Google and
Samsung
.