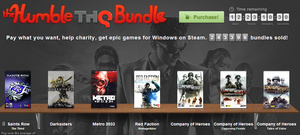 For those that have never tried them, Humble Bundle is a fantastic deal made available for games of different platforms, with the price being whatever you want to donate.
The company gives most of the proceeds to charity and they have had multiple successful
Android
deals.
Today's latest Humble THQ Bundle offers 6 classic PC games, along with the potential for a seventh if you donate above what the average consumer is donating.
The games are Darksiders,
Metro 2033
, Red Faction Armageddon,
Company of Heroes
and their stand alone expansions Opposing Fronts and Tales of Valor. If you beat the average ($5.30 as of writing), you will also get Saints Row: The Third.
Additionally, you get the soundtracks (in
MP3
or
FLAC
) for
Saints Row
The Third, Darksiders, Red Faction Armageddon and Company of Heroes.
You will need Steam and Windows to redeem the deal, and you must donate above $1. You can select how to distribute your donation, between THQ, Humble Bundle and charity. As of writing, there have been 240,000 bundles sold.
Check the deal here:
Humble THQ Bundle