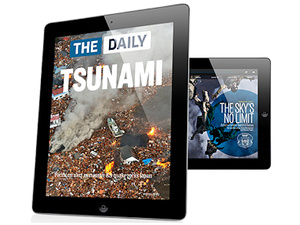 News Corp. has decided to shut down its all digital iPad newspaper "The Daily" after just two years.
As of December 15th, the company will "cease standalone publication" of the tablet application.
The paper's 120 employees will mainly be moved into the company's New
York
Post division, or laid off.
Adds CEO Rupert Murdoch (
via ATD
):
"From its launch, The Daily was a bold experiment in digital publishing and an amazing vehicle for innovation. Unfortunately, our experience was that we could not find a large enough audience quickly enough to convince us the business model was sustainable in the long-term. Therefore we will take the very best of what we have learned at The Daily and apply it to all our properties. Under the editorial leadership of Editor-in-Chief Col Allan and the business and digital leadership of Jesse, I know The New York Post will continue to grow and become stronger on the web, on mobile, and not least, the paper itself. I want to thank all of the journalists, digital and business professionals for the hard work they put into The Daily."
The Daily cost just $0.99 per week and uses mixed media content such as video in most articles, including some 3D effects in some articles.