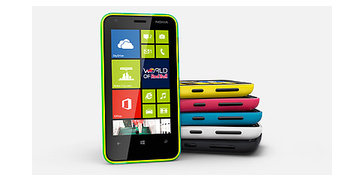 Nokia
has unveiled the
Lumia
620, a device the company believes will "give you the most fun for your money."
The device has a small 3.8-inch display and is powered by a 1GHz dual-core Qualcomm Snapdragon S4 processor and 512MB of
RAM
. The phone also has
NFC
connectivity 8GB internal storage but there is a
microSD
card slot, as well.
Additionally, the phone has dual cameras and Nokia's own lens technology built into both.
"With its innovative design, the latest Windows Phone 8 software and signature experiences from Nokia, like Nokia lenses, Nokia Maps and Nokia Music, the Nokia Lumia 620 is a highly competitive smartphone at this price point,"
added
Nokia Smart Devices' executive vice president, Jo Harlow.
As with most Lumia phones, the device will be available in numerous colors including lime green, orange, cyan, magenta, yellow, black and white.
Retail price, unlocked, is $249. The device will go on sale in Asia, Africa and Europe in January.