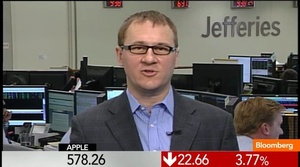 According to Jefferies analyst Peter Misek,
Apple
will release the iPhone 5S in June, breaking its recent pattern of unveiling the flagship in late September.
Misek, who is known to be decently accurate about Apple's earnings and past iPhone info,
says
the new phone will have a "super
HD
camera/screen, a better battery, and
NFC
," along with "possible updates that include an
IGZO
screen for Retina+, 128GB storage."
Furthermore, the device will come in 8 different colorways, similar to the new iPod Touch.
It makes sense for Apple to quicken their release cycle, especially as competitors like
Samsung
have begun to crush them in quarters before the new iPhone launches as customers hold off on purchasing.
If
all
the predictions are accurate, the changes would be some of the biggest upgrades we have seen yet for an iPhone, which has struggled with lack of innovation in recent years.