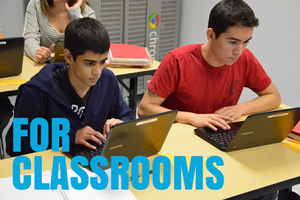 Earlier today, Google announced that it would offer the
Samsung
Series 5
Chromebook
for $99 to public school teachers.
Through a partnership with online charity DonorsChoose.org, the company was offering the cheap Chromebooks for the price including management and support.
With its announcement, Google wrote: "To help budget-strapped classrooms across the country, we're working with DonorsChoose.org, an online charity that connects donors directly to public school classroom needs. For the holiday season, teachers can request the Samsung Series 5 Chromebook--the most widely deployed Chromebook in schools--at a special, discounted price of $99 including hardware, management and support.
If you're a full-time public school teacher in the U.S., visit DonorsChoose.org and follow the instructions to take advantage of this opportunity by December 21, 2012. Your request will be posted on DonorsChoose.org where anyone can make a donation to support your classroom. When you reach your funding goal, you'll receive your Chromebooks from Lakeshore Learning, DonorsChoose.org's exclusive fulfillment partner for this program."
However, it appears that the company has already sold out of its limited inventory, no longer taking submissions. Read Google's updated post here, where you can still sign up to see if future inventory is made available:
DonorsChoose