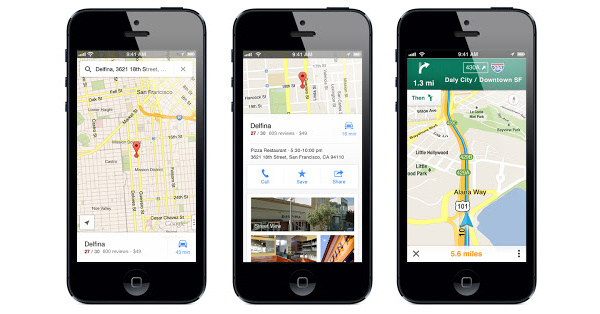 Just hours after being released for
iOS
, Google's new Maps app has become the most downloaded application in the App Store.
The free app is available in 40 countries and in 29 languages and
Apple
fans seem to be running as fast as they can to replace their buggy Apple Maps offering which came pre-loaded on iOS 6 devices like the latest iPad, iPad Mini and
iPhone 5
.
Apple's version became infamous for getting users lost and for its glaring lack of any kind of public transit navigation. Apple CEO Tim Cook had to apologize for the app, and the longtime exec behind iOS software was fired.
Reads Google's
post
:
People around the world have been asking for Google Maps on iPhone. Starting today, we're pleased to announce that Google Maps is here--rolling out across the world in the Apple App Store. It's designed from the ground up to combine the comprehensiveness and accuracy of Google Maps with an interface that makes finding what you're looking for faster and easier.



The app shows more map on screen and turns mobile mapping into one intuitive experience. It's a sharper looking, vector-based map that loads quickly and provides smooth tilting and rotating of 2D and 3D views. The search box at the top is a good place to start--perhaps by entering the name of a new and interesting restaurant. An expandable info sheet at the bottom shows the address, opening hours, ratings and reviews, images, directions and other information.

At the heart of this app is our constantly improving map of the world that includes detailed information for more than 80 million businesses and points of interest. Preview where you want to go with Street View and see inside places with Business Photos to decide on a table or see if it's better at the bar. To get you there, you've got voice-guided, turn-by-turn navigation, live traffic conditions to avoid the jams and if you want to use public transportation, find information for more than one million public transit stops.
For their part, Apple engineers have been working on fixing the application but now with Google Maps back, it will be too little too late.