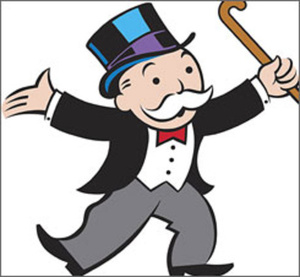 Hasbro has announced that one of its iconic 'Monopoly' game tokens will be replaced, via Facebook vote.
Through the new "Save Your Token" campaign, interested parties can choose to retire the race car, battleship, the iron, the dog, the wheelbarrow, the shoe, the top hat or the thimble, many of which have been around since the 1930s.
You have until February 5th to vote,
here
, for which token you want to see saved from retirement and which one you want added.
The replacements are a robot, a helicopter, a cat, a guitar or a diamond ring.
There have been almost 300 million copies produced since the game launched in 1935 during the midst of the Great Depression. The dog and wheelbarrow were added in the 1950s while two pieces, the horse and cannon were removed in the late 1990s.
Comically, oddsmakers have the wheelbarrow
at the highest odds of being outed
.