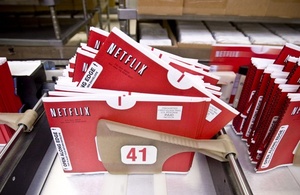 A federal court
has ruled this week
that Netflix has been receiving an unfair advantage from the US Postal Service (USPS) thanks to special handling of its
DVD
business.
The court also ordered regulators to offer a good explanation as to why, or remedy the discrimination immediately.

GameFly, the video game rental company, is the big winner in the case, as they originally claimed that Netflix's DVDs were receiving the preferential treatment over their own discs.

The ball is now in the Postal Regulatory Commission's court, as they will either have to come up with the explanation or "remedy all discrimination."

Adds GameFly: "We trust that the commission will take the court's decision to heart, and require the postal service to be compliant with the law by offering the same price and quality of service to all DVD rental companies."



Netflix is the USPS's biggest DVD mailer by a long shot, and the company added after the ruling that "the different treatment that we provided to our customers was fully justified and reasonable, and consistent with the law."