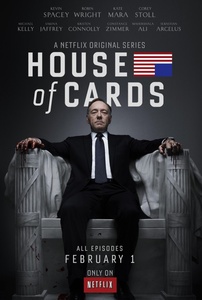 It is becoming abundantly clear the direction that Netflix is heading.
Netflix's first original series, "House of Cards," is just days away from debuting, and the show is the second of the
streaming
company's foray into original programming and its inevitable head-to-head battle with HBO and Showtime.
In an interview with GQ
, CCO Ted Sarandos says the company has $300 million per year budget for original programming, and that he hopes to bring five original shows to subscribers every year moving forward.
The company certainly has the potential to do so. Netflix has so far committed to entire seasons upfront (without a pilot), and offers larger budgets than rivals (especially in broadcast) do. As Sarandos says,
"The goal is to become HBO faster than HBO can become us."
Continued:
"I really think we have the chance to radically change the depth of character connectivity. I mean, a meaningful shift. It's going to further blur the line between television and movies."
Netflix currently has 6 original programs set for this year, including House of Cards, the 4th season of the cult classic Arrested Development, the second season of Lilyhammer, and Eli Roth's "Hemlock Grove," an original series about murder, mystery, and monsters.