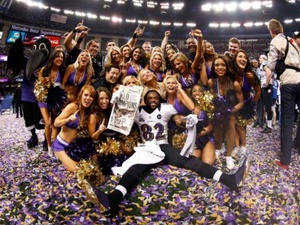 A number of major story lines led to a record overnight rating for last night's Super Bowl.
Nielsen reported that the game had an overnight rating of 48.1, beating out last year's Super Bowl for the highest ever. The overnight rating "reflects the percentage of households watching television that tuned in to a given show."
Last year's game scored a 47.8 rating and was most-watched show of all-time, with an average audience of 111.3 million.
This year's matchup brought in 108.3 million viewers
, making it the third-most watched show, ever, in the U.S.
Social media saw an expected boost, as well, a total of 24.1 million Tweets. Despite a major comeback by the 49ers, and a surprise blackout, the most tweets came during Beyonce's halftime performance. Twitter was recording 268,000 messages per minute as she wrapped up the show.