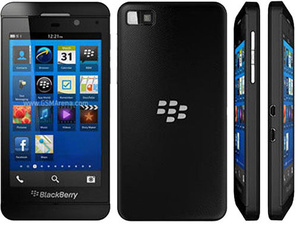 Mobile service provider Solavei brings BlackBerry 10-equipped BlackBerry Z10 smartphone to the United States a month early, but it will cost you almost a thousand dollars.
It is listed on GSM Nation - Solavei's retail partner - for a whopping $999.00. The smartphone is slated to launch in the United States in mid-March, but for those who can't wait that long and don't care about the lack of a subsidy, Solavei comes to the rescue.

Solavei is a contract-free mobile service provider that piggy backs on T-Mobile's national network, offering customers an unlimited voice, SMS and data plan for $49 per month, and provides financial incentives for signing other people up to the service.

It does not spend much money on advertising - relying instead on encouraging customers to recruit - and it will not provide similarly generous subsidies that major carriers in the U.S. do (typically coupled with a long-term contract.)

The BlackBerry Z10 is already available in the United Kingdom and in Canada, and was technically due to hit the U.S. market next month.

"We believe in giving our members access to the latest phones and wireless capabilities," said Ryan Wuerch, founder and CEO of Solavei.

"Solavei not only gives its members the opportunity to pay less for unlimited mobile service, but even the opportunity to earn income by sharing Solavei with others."