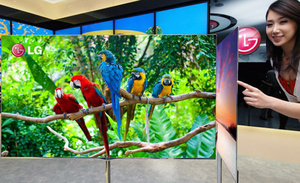 LG Electronics Inc has said that it has received more than 100 pre-orders for its 55-inch OLED television, due to start selling in South Korea.
It will go on sale next Monday, coming to the market before rivals, albeit at a very high cost. Organic Light-Emitting Diode (OLED) televisions promise lower power consumption and sharper contrast than LCD screens, and are widely tipped to be the successor to LCD TVs.
LG Electronics
, the world's No.2 manufacturer of televisions behind South Korean rival Samsung, aimed to get to market for a 55-inch OLED display before its rivals.
Samsung
has yet to announce when it will start producing of OLED flat screens.
This year, LG is hoping to
boost TV shipments by 15 percent
, after poor performance in its TV business during the vital fourth quarter of 2012.