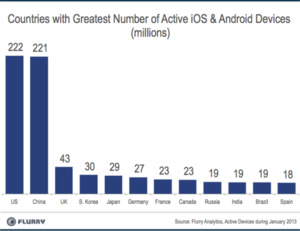 According to a new report from mobile app tracking company Flurry Analytics, China is now the world's top smartphone and tablet market.
For the month of January, China had 221 million active smartphones and tablets, just 1 million behind the U.S.
Flurry estimates
China will conclude February at 246 million compared to 230 million for the U.S. China is never expected to lose the lead again.
It is important to note that Flurry only includes
Android
and
iOS
in the report, which means China was likely well ahead even before this month thanks to other operating systems available.
The UK came in third at 43 million active iOS and Android devices.