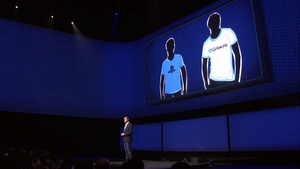 At the PlayStation event, Sony has unleashed some of the details of the PlayStation 4's interaction with the cloud and what it means for gamers.
The
PS4
has integrated technology acquired from
Gaikai
last year, according to Gaikai CEO
David Perry
. It will allow the PS4 to stream games directly to the PSVita handheld. The functionality was shown streaming Knack to a PSVita.
The PS4 acts as a server, feeding the video footage directly to the handheld console. and the PSVita can be used to remotely control it.
Gaikai will also power a form of backwards compatibility, eventually bringing all older PlayStation titles to the PS4, but not a lot of details were given beyond that promise. Given the CPU differences, and the resources demanding nature of software emulation, it is safe to assume that this kind of streaming will have to be put in place of actual backwards compatibility.