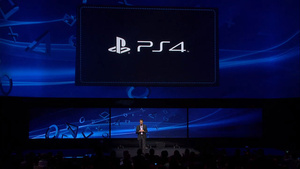 During the console's unveiling earlier this week,
Sony
announced that the PlayStation 4 would have 4K
resolution
support.
Today, however, PlayStation Executive Shuhei Yoshida says the PS4 will support 4K for video and photos but not for games.
Additionally, 3D functionality will no longer be a focus for the console.
Says Yoshida:
"The PS4 supports 4K output, but only for photos and videos -- not games. PS4 games do not work on 4K."
In regards to 3D,
"it's not a focus. But it does do it better. The basic capability is higher so more games will run at 1080p at 60 frames so it's an easier and better experience when you watch on 3D TV."
The exec
then elaborated
on the company's 3D strategy.
"3D was a big thing a couple of years ago -- we made it a big thing because it was lead by the consumer electronics side of Sony and we liked what we could do on PS3 using 3D stereoscopic,"
Yoshida added.
"But now the consumer electronics side of Sony, or all of the companies have shifted focus from 3D TV to something else, so if they're not talking about it, why would we?"