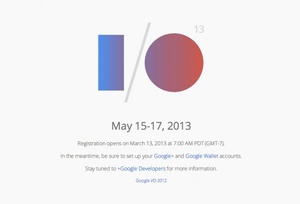 Google has sent out invites for their 2013 I/O conference, which is slated for May 15th-17th this year.
The event will be held at the Moscone Center West in San Francisco
and the company says
registration will go live on March 13th at 7AM PST.
Prices are on par with last year's, with student pricing locked at $300 and general pricing at $900. The tickets sold out in under 15 minutes last year.
The event will be shared, live, via Google Developers Live and I/O Extended viewing parties, if you cannot secure a ticket in time.
Google has greatly impressed over the last few years with their I/O event, last year unveiling the Google Glass project, the Nexus 7 tablet, Google Now and
Android
4.1.