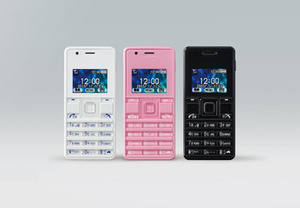 The small Japanese carrier Willcom has unveiled the world's "smallest and lightest phone."
Dubbed the Phone Strap 2 WX06A, the device weighs in at just 1.1 ounces and measures a tiny 32 x 70 x 10.7mm.
Besides having the title of smallest and lighest, the phone does not offer too much else. The Phone Strap 2 has a 1-inch display and two hours of talktime.
The point of the device is to "strap it" onto a tablet for calling, email, and texting capabilities.
As can be expected, the device will be released in Japan only, and only 12,000 will be manufactured.