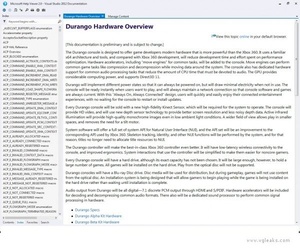 While the rumors have been rampant for months, another leak from this week gives more credence to the rumor that the next Xbox will require an Internet connection and all games must be installed to the HDD.
VGLeaks
posted screenshots of the Durango XDK (Development Kit) on Tuesday, and with them are some interesting facts.
The documentation says the console will include an HDD with enough capacity "to hold a large number of games." All games must be installed to the drive as "play from the optical drive will not be supported." That being said, it appears the discs will only be required for installation and then are useless.
Additionally, the documentation suggests the console will be "always on, always connected," which normally refers to a necessity of being connected to the Internet to be able to play games, including single-player modes.
Take everything from the screenshots with a grain of salt, however, as other sources are reporting that the documentation is from 2012, which could mean
Microsoft
has had a change of heart.
The Xbox Next is expected to be unveiled at this year's E3 for release over the holidays.