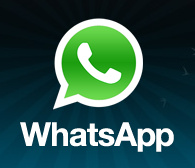 Popular mobile messaging app WhatsApp is
rumored
to be in negotiations with Google over a buyout, one that could cost the search giant $1 billion.
Supposedly, the talks began five weeks ago, but WhatsApp is playing "hard ball" while trying to get the most money out of the deal.
While
Google Talk
and Google Hangouts are part of the Google suite, there has been very little innovation in the space for the company, allowing smaller startups to move in.
WhatsApp remains the leader in the market, but rivals like LINE are quickly joining them, including newer features and poaching customers. WhatsApp costs $0.99 for one year of service and is available on
Android
and
iOS
and Windows Phone as a cross-platform messaging service. The service processes billions of apps per day and is always a top 5 paid app in all 100 countries it is available in.