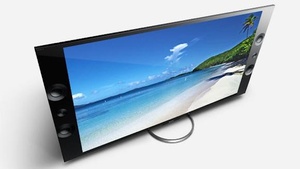 Sony
has announced today the release date and prices for its high-end 4K televisions first unveiled at
CES
this year.
The Bravia XBR-55X900A (55-inch) and XBR-65X900A (65-inch) will cost $5000 and $7000, and will be made available to consumers of April 21st.
Each of the sets have passive 3D, edge-lit displays and built-in Wi-Fi, which are higher-end specs but also helped Sony keep the prices down to a point where consumers may potentially be willing to invest.
"These new models will be arriving in homes just before the summer and are sure to bring the enhanced viewing experience of 4K TV to a whole new audience,"
said
Mike Lucas, senior vice president, Sony Electronics Home Division.
"Our TVs deliver a vibrant and natural picture that is four-times clearer than high definition. As for content, these new sets enhance all of the video people are watching today, and this summer our 4K media player, followed in fall by the video distribution service will demonstrate how Sony continues to lead in bringing the 4K entertainment experience to viewers."
Additionally, the company unveiled a 4K
streaming
set-top box
which stores and delivers on-demand content. Sony is also offering a 4K catalog of their older films optimized for 4K displays.