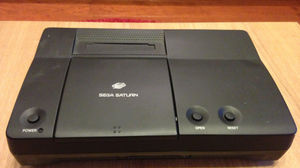 An ex-Sega engineer has shown off a "Sega Pluto" prototype console
that was never released
.
The console is a Sega Saturn in hardware and software, but also included a built-in NetLink 28.8k dial-up modem for Internet connectivity and online multiplayer.
There are only two Pluto models in existence, and the unit shown off is a fully functioning
NTSC
model.
Says the engineer,
"After a good 14 years or so of sitting on this, I've decided it's time to share a little bit of Sega lore with those who would appreciate it most. Sega is a company with a history of turmoil. Employee turnover is a sad theme, and the Sonic Reaper (as we call him) strikes all too frequently. As such, the past gets forgotten quickly - treasures from the previous generation are quickly cast aside, as a new regime tries to make a name for themselves (or justify their existence).

"As such, some of said treasures get left on laid-off-peoples' desks. And in a beautiful twist of fate, this beauty ended up finding its way to my desk, and then in a box with the rest of my stuff when I left Sega. I was told that only two of these prototypes were made - and this is #2."

"This thing is a beast, and definitely the heaviest console I've ever held in my hands. Note that the logo still says Saturn, so I'm guessing the Pluto codename was simply that, and they were thinking of branding it with the Saturn name. (The logo is printed on production-style though, so I'm guessing they were fairly serious about this one.) The left and right sides feature beautiful-and-exotic vents, while the back is standard Saturn, save for the Netlink ports. The bottom has nothing of note except for the "PLUTO-02″ sticker (which is, of course, of note)."