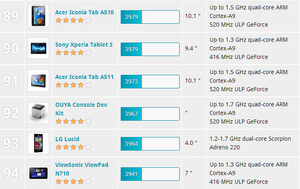 Benchmarking company Futuremark recently tested 258
Android
devices.
Using their
3DMark benchmark tests
, the Ouya came in 92nd place in performance, falling far behind newer flagship phones like the, Galaxy S4, Nexus 4 and
HTC
One and tablets such as the Xperia Tablet Z and
Galaxy Note
8.
Of course, the test were run on the Kickstarter dev kits and really only test raw technical capabilities. The console uses a quad-core Tegra 3 T33.
The device raised almost $9 million from Kickstarter, but most reviews have claimed the dev models are not ready for retail. The retail boxes go on sale via retailers like Amazon in early June.
Full list here:
Futuremark