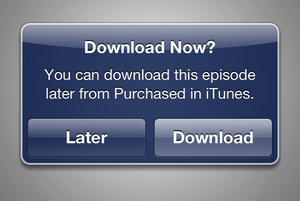 Apple
has finally added the option to download content later from
iTunes
, including TV episodes, season passes and movies.
Using iTunes 11 or higher, or an
iOS
device with iOS 6, you'll have the option to "buy now" and "download later," a good move for bigger content you may not want to start downloading at the time of purchase.
Macworld
says if you
"tap Later the purchased items will be added to your iTunes account and accessible to stream or download in the future via Apple's iTunes in the Cloud feature."
The new feature is available only if you live in a nation that has iTunes for Cloud for audio and video. There are plenty of countries that do support both, but not all. Check the full list here:
iTunes in the Cloud availability