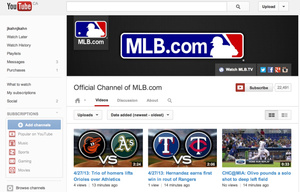 YouTube has announced that Major League Baseball (MLB) will be offering content via the
streaming
video site.
Reads the full post:
Major League Baseball is bringing America's favorite pastime to more fans all over the world on YouTube. Expect to see highlights of MLB games from this season about a day or two afterwards, tens of thousands of hours of archived games dating back to 1952, clips from Baseballs Best Classics and Best Moments, and more. In all countries other than the US, Canada, South Korea, Taiwan and Japan, you can also watch two live games per day during the regular season for free.
If you are in North America it appears you will have to continue to pay for your baseball content.
MLB's page is here:
YouTube