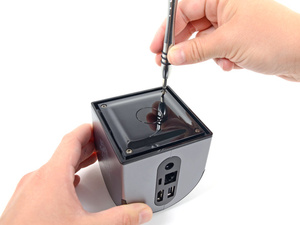 Ouya, the little open-source game console that could, has received very high marks for repairability by iFixit.
iFixit tears down consoles, phone, tablets and other devices to see what hardware is used and grades the devices on how easy they are to repair if something were to go wrong.
The console, which costs just $99 for consumers, is three inches across by three inches high and deep. Under the hood is 1GB
SDRAM
, a Nvidia Tegra 3 CPU, a Texas Instruments power management tool and comically, five metal weights used to make the console more bottom heavy and not topple over and to keep the cables connected in the back more stable.
Scoring a 9 places the Ouya in rare company, as many current generation devices are almost impossible to repair on your own if something were to happen. For example, the new
Microsoft
Surface Pro tablet scored a 1/10, with the company calling it impossible to repair.
Additionally, iFixit tore apart the controllers (which cost $50 after the first one) and found they are powered by an
ARM
Cortex
M3
processor. The company says the joysticks are soldered to the circuit board, however, meaning if the joysticks are damaged you will likely have to completely replace the controller.
More pictures here:
Ouya Teardown