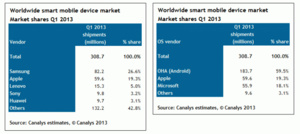 According to research firm Canalys, 308.7 million smart mobile devices were shipped in the first quarter, a huge growth rate of 37.4 percent year-over-year.
Google's
Android
remained king for operating systems, with 59.5 percent share of the devices shipped.
Apple
took 19.3 percent between
iOS
and OS X and
Microsoft
took 18.1 percent share with its Windows 8 and Windows Phone device.
While those numbers may seem odd,
it is because of how Canalys defines a "smart mobile device;"
notebooks, tablets, and smartphones.
Notebook shipments decreased to 50.5 million units, smartphones grew to 216.3 million and tablets grew to 41.9 million.
On an
OEM
basis,
Samsung
unsurprisingly took first place with 26.6 percent share, followed by Apple at 19.3 percent and
Lenovo
at 5 percent.
For smartphones, Android accounted for 75.6 percent of all units shipped and for tablets iPads accounted for 46.4 percent, although its share continues to fall.