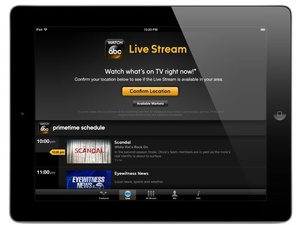 According to sources, Disney will begin allowing livestreaming of ABC broadcast content to
iOS
devices in NYC and Philadelphia.
If completely accurate, the news would be huge as major broadcasters have never allowed the viewing of live content via mobile devices.
For the first six weeks, the
streaming
will be free if you have an iOS device but will eventually only be available to paying subscribers of cable and satellite providers.
Dubbed the "Live" button,
the company's app will be updated
for cities where ABC owns stations, which at this time is only six metro cities. Disney is in talks with the companies that own ABC affiliates, which would give access to fans in 200 other cities.
The streaming will be made available to
Android
in the coming months.