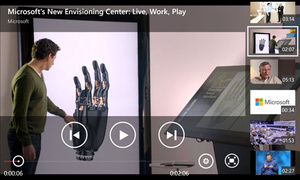 Google has written a cease and desist letter to Microsoft, demanding that it remove an updates YouTube app for the Windows Phone operating systems.
Microsoft
recently released an updated YouTube app for Windows Phone that raised some eyebrows as it clearly seemed to violate the terms and conditions of the YouTube API. At the center of Google's anger is the deliberate blocking out of ads by the app.
"Unfortunately, by blocking advertising and allowing downloads of videos, your application cuts off a valuable ongoing revenue source for creators, and causes harm to the thriving content ecosystem on YouTube,"
Google wrote to
Todd Brix
, Senior Director of Windows Phone Apps Team.
Another noted issue with the updated app since it was released is its apparent ability to download YouTube videos locally, making them available to other apps on the system.
Google is demanding that Microsoft
remove the updated YouTube app from the Windows Phone Store
and "disable existing downloads of the application," by May 22.