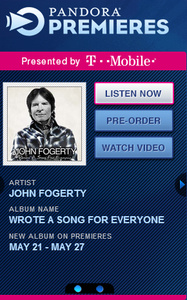 Internet radio service Pandora has announced its new "Premieres" station that will allow users to preview upcoming albums up to a week before they go on sale.
Pandora
says the service
is a "first-of-its kind station," and will include new and established artists.
For example, the first album available is John Fogerty's "Wrote a Song for Everyone," which debuts at the end of the month.
"Pandora Premieres represents a great new discovery platform for our more than 200 million registered users and an equally powerful vehicle for artists, both established and emerging to reach new audiences,"
says Pandora Founder and Chief Strategy Officer, Tim Westergren.
"Never has so targeted a program been delivered on such a massive scale."
To add the station, login to your account and type "Pandora Premieres" into the search field.