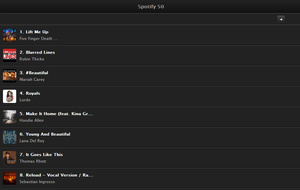 Popular music
streaming
service
Spotify
has
announced
today that it will begin publishing top 50 lists for its most-streamed and most-shared songs.
More importantly, the lists will be embedded with links that allow users to stream the tracks without needing to log in or even register a Spotify account.

The company has 24 million active users around the globe and 6 million paid subscribers but is aggressively looking to expand. Although not a direct rival, Pandora has 70 million active users and brings in much more revenue from advertising. Google just created a rival service, as well, Google Play All Access, which offers practically the same service but is backed by the search giant and its ecosystem.

Dubbed the Spotify 50 and the Social 50, the lists will be made available via an embeddable widget that can be placed on any website. The list updates every Monday at noon.